War Pony Exteriors: Excellent Under Pressure
What's your happy place? For us, it's a clean, neat, and orderly home. Maintaining your roof, siding, and walkways is crucial in our Oregon climate. Over time, algae and dirt break down and degrade exterior surface materials, leading to costly repairs and replacement if left unchecked. War Pony Exteriors offers professional exterior cleaning services for residential and commercial properties, and we use safe and effective eco-friendly products that are earth, family, and pet friendly.
Services
War Pony Exteriors proudly offers various exterior cleaning services to homes and businesses throughout Eugene, Springfield, and the surrounding areas. We're fully equipped and have the experience to make your property shine!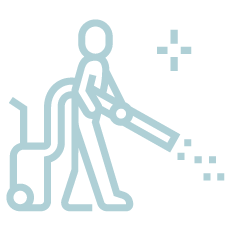 Soft Wash
Soft Washing combines lower pressure with eco-friendly solutions to provide effective, long-lasting results. Soft washing safely removes black mold, algae, mildew, dirt, and other contaminants from softer, more delicate surfaces and structures that pressure washing might harm. Siding, structures like old decks, or your roof can be safely cleaned without negatively impacting the structural integrity.
War Pony Exteriors recommends soft washing for:
Algae, mold, or mildew covered roofs and siding
Cedar Shake siding and wood panel siding
Concrete that is less than three years old
Stained walkways and driveways
Stained decks
Pressure Wash
Pressure washing uses high water pressures between 1,500 – 3,000 PSI to scour surfaces and remove grit and grime. Pressure washing can dislodge deep-rooted compounds within the surface material, making it the ideal application for hard and porous surfaces like concrete or for removing loose paint or stains from wood surfaces.
War Pony Exteriors recommends pressure washing to:
Remove loose paint or stains from wooden or aluminum siding
Prepare a deck for staining
Wash concrete, pavement, and similarly hard surfaces over three years old
Eugene/Springfield
Coburg
Santa Clara
Junction City